What is Robotic Surgery?
Robotic Surgery is a surgical method where a surgeon uses a machine with very small surgical tools connected to a robotic arm. The surgeon operates and controls the arms from a computer within the room. Mr Bhatia uses the da Vinci robot system for his Robotic Surgery cases. It is important to know that the da Vinci robot system does not, and cannot, operate independently. The robot is always under the complete control of the surgeon operating from a console in the same room.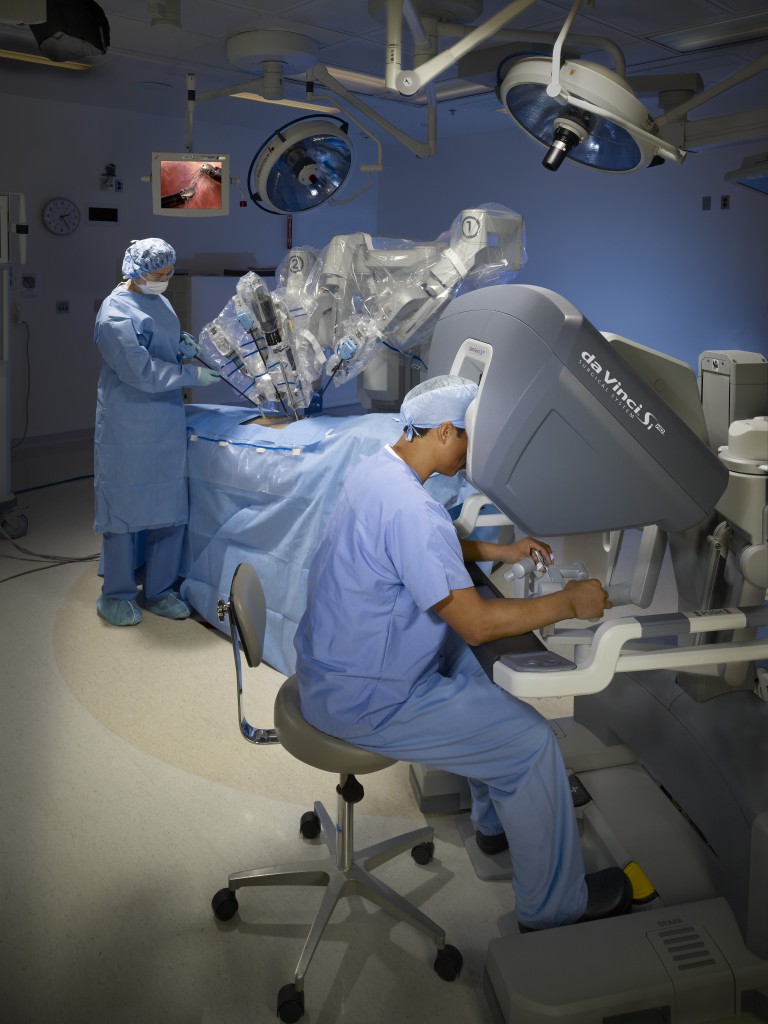 Robotic Surgery
Img022_Si_OR_with_Single_Console_183842-768×1024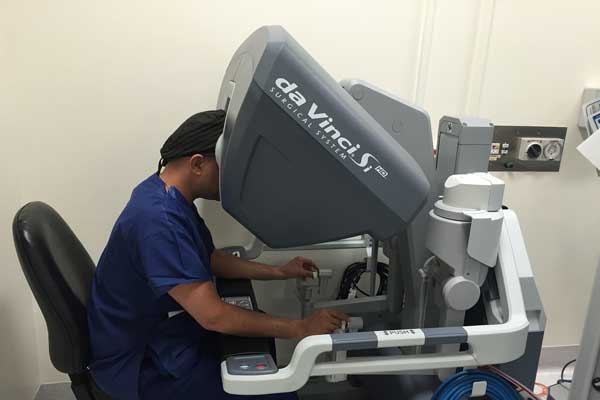 Mr Kiron Bhatia operating the da Vinci Robot
Which procedures can be completed using Robotic Surgery?
Mr Kiron Bhatia can perform the following Weight Loss and General Surgery procedures using the da Vinci Robotic Surgery system:
Gastric Sleeve (Sleeve Gastrectomy)
Gastric Bypass (Roux en Y Gastric Bypass)
Gall Bladder removal (Choelcystectomy)
Single Site Gall Bladder removal (Cholecystectomy)
Reflux surgery (Fundoplication)
Single Site Reflux surgery (Fundoplication)
How long has Robotic Surgery been available?
The first documented case of robotic surgery was completed in 1985. Specifically for Laparoscopic surgery The da Vinci surgical system was first approved for use in the year 2000. Since then it has been utilized around the world for a range of complex conditions including cancer of the prostate, cervix/uterus, colon/rectum, lung as well as bariatric (weight loss) surgery and general surgery.
The da Vinci robot system is minimally invasive and utilizes the latest in surgical and robotic innovation. It features a 3D high definition camera and special instruments that bend and rotate far greater than the human wrist. This enables the surgeon to operate with enhanced vision, precision, dexterity and control.
For further information on da Vinci robotic surgery, please see the link below. For information on the range of procedures performed and to see if you qualify, please contact our office.
Please understand that the information that is provided on this website is to serve as a guide only. This does, by no means, negate or alter the need for a full individual consultation and medical assessment.